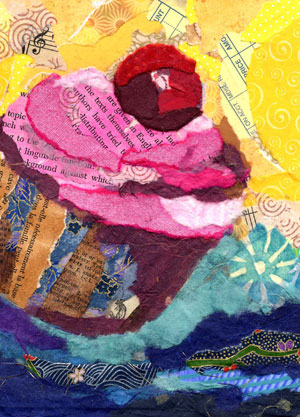 Wanda attended the Rhode Island School of Design, graduating in Scientific and Technical Illustration.
While it is her technical training that draws her to paint local architecture, she has a passion for watercolor and has now discovered a whole new freedom in her unconventional collage process…"torn paper paintings". Here she has found a great mix between realism & impressionism.
Wanda Edwards
Ms. Edwards has also studied botanical illustration with artist Jane Neroni as well as internationally known artist Bente Starke King who teaches at Cornell University. Wanda worked for a number of years as an in-house artist painting on porcelain at Sherle Wagner International. She also worked as an art teacher at a local private school and is a licensed real estate agent.
Wanda is a member of the Westport Art Group, ArtWorks, and a long time member of the Fall River Art Association where she also taught adult watercolor classes. Her works have been in numerous regional juried shows as well as published in several newspaper articles.
She is currently represented by:
Collyer's Gallery in Mattapoisett, MA. Little Beach Gallery, Hyannis, MA.
CONTACT
Wanda can be reached at 508-801-7318. Visit her site: www.tornpaperpaintings.com, or email her at TornPaperPaintings@yahoo.com.