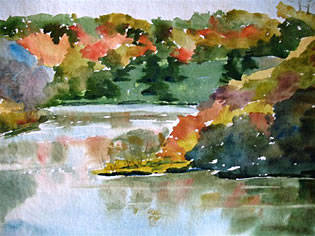 Although Lois began her art career as an oil painter, watercolor is presently her medium of choice.
While living in New Jersey, Lois trained at the Ridgewood Art Institute and the National Academy of Art. Privately she has studied with Meredith Cornell, Helen Nadler, Don Andrews, Mel Stabin, and Joe Rossi to mention a few.
Her paintings have been accepted in several juried shows including Newport Art Museum, Lever House in New York City, Westport Art Group, Little Compton and various New Jersey Galleries.
Lois' paintings are in private collections in England, Germany and throughout the United States.
You can reach Lois at 401-624-3228.