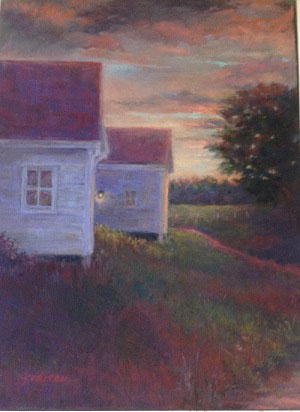 Drawing, painting and creating art have been a major part of my life since I was very young. I spent a great deal of time exploring the country roads where I grew up and enjoyed long hours drawing and painting those scenes. While my life took other work directions when I became an adult and raised a family, I was pleased that after relocating to Bristol, RI in 2006, I had the opportunity to rekindle my interest in painting. A pastel demonstration held at The Westport Art Group fascinated me and I wanted to learn more about this interesting medium. Since then, I have been fortunate to study and attend workshops with a number of wonderful artists and mentors whose shared knowledge and encouragement have been inspirational.
Our beautiful coastal region offers an abundance of painting opportunities and I especially enjoy painting outdoors and trying to capture the essence of my surroundings. I am drawn to the effect of light and atmosphere particularly on the quiet beauty of marshes and coastal landscapes.
One of the reasons I enjoy working with pastels is that they offer such purity of color and immediacy of application. That quality is important when working outdoors in ever-changing weather conditions that make it necessary to be flexible and spontaneous. Opening a box of pastels and seeing the many luminous colors is truly an invitation to touch and explore.
Contact
Jgendreau1@cox.net
508-954-5805